The Granite Vessel of Lanhelin
" fluctuat nec mergitur * "
---
They wrote about it:

Brest 2000: The sculptor dreams of a stone vessel.

12/02/98 per Rene Clech
---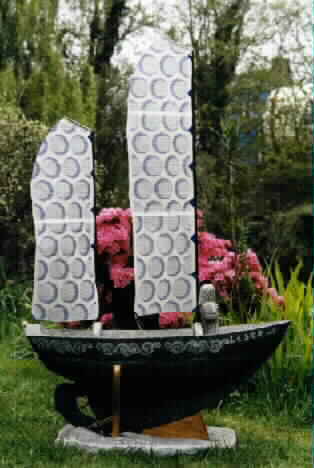 Finally... photographs
---
Saint-Malo, April 8th 1998
Jean-Yves Menez is a 45 year old sculptor, born in Finistere at the western tip of Brittany. He has travelled round the world to use his carving skills on a surprising selection of raw materials-giant blocks of ice in China (1994), snow in Japan and steel in Mexico (1995). He was in Berlin in 1989 and, under the curious eyes of the "vopos", made the first opening in the notorious wall for people to cross over, east to west. He brought back a commemorative sculpture, which is now in Brittany. For the last year, he has based himself in Lanhelin, close to St Malo in Ille et Vilaine. He is there at the invitation of the commune, whose history is bound up with granite. Living between the blue granite quarries and the sea, he had a marvellous idea - To make a granite boat - that floats !
Celtic monks
The local granite workers after a lifetime in the quarries simply didn't believe him. Jean-Yves explained his passion for ancient history and in particular the legends of the Celtic monks, who landed on the Brittany beaches in stone vessels. Myth or truth ? Our "sculptor-historian-poet" wanted to be clear about it. So he took a 210 kilo block of granite and, over a period of several weeks, created a boat 75 cms long -
It floats, here it is...
| | |
| --- | --- |
| | |
| | Yes, it really floats ! |
"See granite float and die"
When he saw the boat floating in an aquarium, Nino, an old, sick stone craftman said " I have lived and worked among granite all my life and if I hadn't seen it, I would have never believed it. I am happy to have seen that before I die". During the first trials in the old port at St Malo (on April 7th) people applauded, everyone was thrilled. "I was moved when I saw my boat floating, responding to the wind and moving through the water" said Jean-Yves.
"Granite floats at less than a metre, it must float at more than 4 metres."
The first baby is to have a brother, but a much bigger brother. The sculptor's idea now is to extrapolate by building a series of increasingly large prototypes, culminating in a granite boat 7m50 long. It will be able to carry several people and will have to be ready for the next gathering of traditional boats at Brest 2000. This vessel will be carved from a block of granite 8m X 3m X 3m weighing 220 tons : Working on such a scale will be an exploit in itself !
The crew
"I thought that everyone would think I was off my head when I started talking about the large boat. Many people did, but many others wanted to become involved and work on it with me". In this way Jean-Yves has built up around him a crew of researchers, craftsmen and enthusiasts. The quarrymen of Lanhelin offered the granite, a cabinet maker will make the deck of the small boat in marquetry and "les corsaires malouins", a club of radio-controlled model enthusiasts, based at St Malo, will produce a remote control rig. Several scientists are involved in the large boat project. CREA 2000, linked with La Rochelle university, are working on a propulsion system using ecological energies. Other scientists are attracted to the project.
Yannick Perrigot / Journalist
---
MEMBERS OF THE CREW
(STONE VESSEL CREW)
| | | |
| --- | --- | --- |
| Company GUILLOU GRANIT | Extraction and preparation of the block | Phone : 33 0299738588 - FAX: 33 0299737321 |
| Company MAILLARD GRANIT | Availability of a workshop | |
| Jean ROCHER | Polishing | |
| Yves HENNETON | Rigging | |
| Bruno LAGRUE | Cabinet work | Phone : 33 0299738910 |
| Yves LEFLEM-"Les Corsaires Malouins" | Radio-command | Phone : 33 0299565767 |
| Marie RICHARD | Lithography engraving | Phone : 33 0299588436 |
| Veronique ARTERO-CLARAMONTE | Communication, coordination | |
| Jean-Michel BAUDET | Net surfer - Webmaster | |
| Christine | "Égérie du Régiment " | |
| Gwen LIGUET | Highly skilled oarsman | Phone : 33 0299017974 |
| SO.CA.L | Extraction and preparation of the second block | Phone : 33 0299738023 |
An association was created around the project.
Now we are creating a project for a 4 metre boat to cross The Rance (35)
or Lake Brennilis (29).
Join the crew of the Stone Vessel
WELCOME ON BOARD!!!
Copyright © 1998-2000 Baudet JM